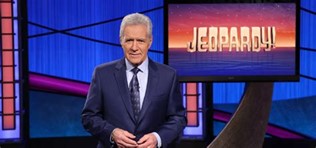 Happy 80th birthday to an American icon
I'd like to begin by wishing a happy 80th birthday to an American icon.  Alex Trebek, a Ukrainian Canadian immigrant to this country, has hosted the game show Jeopardy for 36 years – a Guinness record for game show hosts. He's in a very public battle with stage IV pancreatic cancer, and we wish him more birthdays to come.  He has recently shared that his life has been a quest for knowledge and understanding, a creed that could serve us all well during such challenging times.
This morning, IBank's monthly newsletter was distributed, and features among other items:
A few projects launched in collaboration with the US Digital Response, a dedicated team of top technologists led by some of my former colleagues in the White House, who formed an all-volunteer organization in the wake of COVID-19 to work with governments to deliver critical services to the public. They've been amazing and launched our COVID small business disaster assistance wizard, as well as our new public access data and mapping system. We thank them for their service.
The newsletter also features one of our guests here today, DesertXpress, who recently entered a lease agreement with CALTRANS for the right of way along I-15, an important step forward to build the bullet train from Southern CA to Las Vegas. We'll hear from DesertXpress on phase II planning of their project shortly.
Lastly, the newsletter features yesterday's announcement of IBank's loan guarantee to Switch Maritime, to build its flagship fuel-cell electric ferry that will commence operation between Oakland and SF later this year, adding 63 jobs and reducing greenhouse gas emissions with this transportation innovation. We're delighted with our partnership with the Bay Area Air Quality Management District and Nor-Cal FDC to help bring such a game-changing project to life.
2 Board Notifications:
i.Blue Mountain Electric Company
I'd like to inform the Board that IBank recently entered into an interagency agreement with CAL FIRE to act as loan servicer on Cal Fire's behalf for forest biomass power plant financings. The loans will be between Cal Fire and the plant owner. None of IBank's funds will be loaned or at risk and we will only provide loan servicing and support.
This is the second interagency agreement between IBank and Cal Fire. Last year, IBank entered into an agreement for a loan to the North Fork Bioenergy project. That $1.2M loan was to fund the PG&E interconnection for their biomass gasification facility. The successful collaboration between IBank and CAL FIRE was significant and we were eager to build on this success for future projects.
Blue Mountain Electric Company had received a power purchase agreement from PG&E to construct a 3 MW forest waste biomass facility in Calaveras County, but is struggling to complete the next phase of predevelopment work to keep the PPA in force. Under the new interagency agreement, we will administer a $1.4M loan from Cal Fire to Blue Mountain for interconnection fees and working capital, which represent critical components of the Project.
The Project will benefit the community by reducing the risk of fire in surrounding forests via sustainable forest practices and improved air quality. In addition, 20-30 tribal workers in two tribes with unemployment rates of 80% are expected to gain employment at the power plant.
ii.Small business security
With the recent approval of CA's FY2021 budget, IBank received an additional allocation of $50M across all programs of the Small Business Finance Center to support and restart CA's struggling small business community. We also received $25M to increase liquidity and available capital to CDFIs and other mission-based lenders to facilitate more loans in underbanked communities.
I'd like to share with the Board this most recent effort to spur small business lending in CA.  As you know, IBank currently operates the SBLGP, the DRLGP and the COVID-19 DRLGP, each of which enable small businesses to obtain loans with reasonable terms and interest rates. However, we've discovered that in these unprecedented economic times, the guarantee programs may not be sufficient to help undercapitalized community lenders to deploy funds rapidly enough for struggling small businesses.
A potential solution we're working on is to partner with private sector, impact investor and philanthropic foundation sponsors to create a special purpose entity that will purchase small business loans from CDFIs and other mission-based lenders.  The loan purchases will effectively provide liquidity and re-capitalize lenders to make additional loans.  We believe state support and participation in this vehicle may lead to rapid deployment of substantially larger capital pools to small businesses and ultimately help them rebuild from this crisis.
We've been in discussion with numerous sponsors and interested parties over the past few weeks and hope to present to the Board soon IBank's proposed investment in a SPE to catalyze small business lending.
During this difficult and rapidly evolving period of uncertainty, let's channel Alex Trebek and continue to seek knowledge and understanding in our efforts to find solutions for the people of CA.
Scott Wu