Board Members
The IBank is governed and its corporate power exercised by a board of directors consisting of the following persons or their designees:
Dee Dee Myers
Director of the Governor's Office of Business and Economic Development (GO-Biz)
Dee Dee Myers was named Senior Advisor to the Governor and Director, Office of Business and Economic Development (GO-Biz), in December of 2020. Prior to joining the Newsom Administration, Myers served as Executive Vice President of Worldwide Corporate Communications and Public Affairs for Warner Bros and Managing Director of the Glover Park Group. She also served as White House Press Secretary during President Bill Clinton's first term and was the first woman to hold the position.
Myers is author of The New York Times best-selling book "Why Women Should Rule the World" and was a consultant on the Emmy Award-winning drama series "The West Wing." She serves on the boards of the Smithsonian's National Museum of American History and Wynn Resorts. A graduate of Santa Clara University in California, she lives in Los Angeles with her husband, Todd S. Purdum, and their children.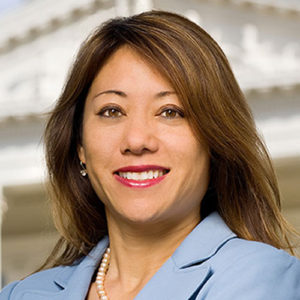 Fiona Ma
State Treasurer
Fiona Ma was elected California State Treasurer in November 2018. She previously served as Chair and Vice Chair of the California State Board of Equalization from 2015 to 2019, representing more than nine million taxpayers. There, she led historic reforms to increase efficiency and transparency at the agency. As a state legislator, she was the first and only Asian-American woman ever elected California Assembly Speaker pro Tempore, the second-highest ranking office in the Assembly. During her time as a legislator, she passed landmark legislation to ban toxic chemicals in children's toys, protect small business-owners and expand opportunities for homeowners.
She previously served as a San Francisco Supervisor.
Fiona Ma is California's 34th State Treasurer. She was elected November 6, 2018 with more votes (7,825,587) than any other candidate for Treasurer in the state's history. She is the first woman of color and the first woman Certified Public Accountant to be elected to the position. Fiona is a licensed Certified Public Accountant in California since 1992 and holds a Bachelors Degree in Accounting from the Rochester Institute of Technology (NY), a Masters Degree in Taxation from Golden Gate University (SF) and an MBA from Pepperdine University.
Keely Martin Bosler
Director of the Department of Finance
Keely Martin Bosler was appointed as Director of the California Department of Finance by Governor Jerry Brown on August 2018. She serves as the Governors's chief fiscal policy advisor. Prior to becoming Director, she served as Cabinet Secretary in the Office of the Governor from 2016 to 2018. Director Bosler served as Chief Deputy Director for Budget at the Department of Finance from 2013 to 2016. Director Bosler was Staff Director for the California State Senate Budget and Fiscal Review Committee from 2010 to 2013, where she was a consultant from 2004 to 2009.
She served as Associate Director for fiscal services at the California Department of Corrections and Rehabilitation Budget Management Branch from 2009 to 2010, and as a Fiscal and Policy Analyst at the California Legislative Analysts Office from 2000 to 2004. Director Bosler earned a Master of Science degree in applied economics from Cornell University.
David S. Kim
Secretary of the California State Transportation Agency
David S. Kim became the third Secretary of the California State Transportation Agency (CalSTA) on July 1, 2019 following his appointment by Governor Newsom in April 2019. In this role, Secretary Kim is responsible for oversight of 40,000 employees across eight departments, boards and commissions whose mission is to advance a safe, environmentally sustainable transportation system that maximizes mobility for all Californians. A longtime transportation leader with experience in the private sector as well as all three levels of government, Secretary Kim served as Vice President, Government Affairs for Hyundai Motor Company from 2017-2019.
Prior to this assignment, Secretary Kim spent nearly eight years in senior level roles at the U.S. Department of Transportation. He served as Deputy Administrator of the Federal Highway Administration (FHWA), the number two position in the agency. Additionally, he was FHWA's Associate Administrator for Policy and Governmental Affairs and before that, spent two years as Deputy Assistant Secretary for Governmental Affairs in the Office of the Secretary of Transportation.
A native of Davis, California, Secretary Kim earned a B.A. in Political Science from Occidental College and a Master of Public Administration from the University of Southern California.
Marc Steinorth
Retired State Legislator, Governor's Appointee
Marc Steinorth is a local entrepreneur, small businessman, and retired state legislator. Twenty-one years ago, Marc founded Atlas Buying Group, Inc. which provides professional services to local businesses and corporations nationwide, helping them grow and create jobs.
Marc Steinorth was elected to the California State Legislature in 2014, and reelected in 2016, to represent the 40th Assembly District, which includes the communities of Rancho Cucamonga, San Bernardino, Highland, Loma Linda, and Redlands. Marc was successful in helping bring jobs and resources to the Inland Empire, including $300 million in infrastructure funding.
Prior to his service in the Legislature, Marc served as a City Council Member for the City of Rancho Cucamonga. During that time, Marc worked to faithfully carry out prudent financial decisions that reflect good stewardship of public monies by the City, on behalf of Rancho Cucamonga residents. These guiding leadership and management principles, Marc has developed, are drawn from his extensive experience as a successful entrepreneur and businessman. Marc Steinorth holds a BA from the University of California, Riverside in Political Science. He lives in Rancho Cucamonga with his two children, Madison and Mason.